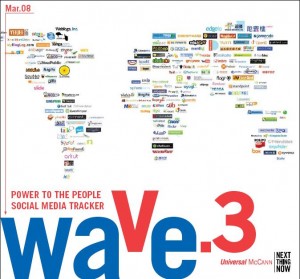 Two years ago, media agency Universal McCann started the most extensive global survey on social media I am aware of. Since then they went through three waves, each time significantly broadening their data base:
Wave 1 – September 2006 – 7,500 Internet users – 15 countries
Wave 2 – June 2007 – 10,000 Internet users – 21 countries
Wave 3 – March 2008 – 17,000 Internet users – 29 countries
Wave 4 – scheduled for late 2008
The 80 page report on wave 3 is downloadable for free.
Here are the highlights of the study as summarised by the authors:
Social media is a global phenomenon happening in all markets regardless of wider economic, social and cultural development. If you are online you are using social media
Asian markets are leading in terms of participation, creating more content than any other region.
All social media platforms have grown significantly over the three Waves

Video clips are the quickest growing platform, up from 31 % penetration in Wave 1 to 83 % in Wave 3

57 % have joined a Social Network, making it the number one platform for creating and sharing content

55 % of users have uploaded photos
22 % of users have uploaded videos

The widget economy is real

23 % of social network users have installed an application
18 % of bloggers have installed applications in their blog templates

Blogs are a mainstream media world-wide and as a collective rival any traditional media
The blogosphere is becoming increasingly participatory, now 184 m bloggers world-wide

The number one thing to blog about is personal life and family

China has the largest blogging community in the world with 42 m bloggers, more than the US and Western Europe combined
Social media impacts your brand's reputation

34 % post opinions about products and brands on their blog
36 % think more positively about companies that have blogs
These findings are truly impressive. However, it's important to put them into the right context. With 17,000 people surveyed the sample is huge, but it only represents "active Internet users" as defined by Universal McCann: people aged 16-54 who are using the Internet every day or every other day.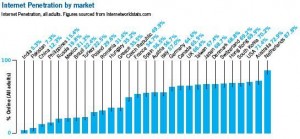 As a result, when looking at the findings more specifically, two parameters should be considered: 1.) the Internet penetration of the respective markets, 2.) the share of the sample in the overall population aged 16-54. Thankfully both sets of numbers are provided in the report.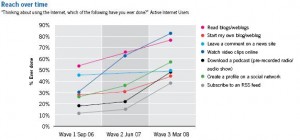 Also, while the usage of social media tools went up across the board, it's interesting to see how the pace of adoption varied between the tools. Watching video clips has passed reading blogs as the most often used tool, even if the speed of it's growth went down a bit. The latter doesn't really come as a surprise, since the reach of video clips is now at the high level of 83 %. By contrast, downloading podcasts, creating social network profiles and subscribing to RSS feeds have all significantly accelerated their pace since the last wave, albeit on a much lower level than watching video clips (see graph "Reach over time").
There are also interesting shifts in the development of some markets. I felt encouraged when looking at the country-by-country results, because the findings confirmed the analysis I presented in the first post on this blog: if we want to understand the development of the new publics in the world of social media, we not only need to consider the underlying technologies, but their interdependency with the economic framework and the socio-political environment. Here are just some anecdotal observations.
For instance, South Korea commands the largest broadband network on the globe, their Internet penetration (70.2 %) is among the highest. There is no doubt that this formidable technology infrastructure helped to make South Koreans the world leading blog readers (92.1 %), blog writers (71.7 %) and keen social networkers (70.3 %). However, technolgy alone doesn't explain the level of participation in Asian markets. E.g. China's internet infrastructure is not as developed, with 12.3 % the penetration is among the lowest on the planet, and users are being observed and censored. And yet the Chinese are on rank 3 as blog readers (88.1 %) and writers (70.3 %) and significantly above the global average (58.8 %) as social networkers (64 %). By comparison, the Dutch enjoy the highest internet penetration of all markets surveyed by Universal McCann, but they are below average (70.2 %) as blog readers (67.7 %) and way off as blog writers (27.1 %), then again their participation in social networks (61.4 %) is above the global average (58.8 %). So, there certainly is a correlation between the socio-political environment and the adoption of specific social media patterns. You can't explain this with technology only.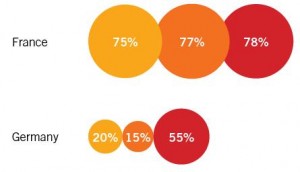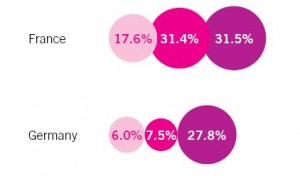 Another layer of complexity is added by changes of country patterns over time. Just check out my fellow countrymen, the Germans! They used to be notorious blogging laggards, but finally they seem to take the Autobahn. Within less than a year, the share of active Internet users in Germany reading blogs more than tripled (see red circles), the share of German blog writers more than quadrupled (purple circles). No such development can be found in France which used to be the by far leading blogging nation in Europe. As a matter of fact, in terms of blog readership France is now matched by both Italy and Spain, and in terms of blog writers, Spain has taken a 10 % lead over France. Given all these differences and the rapid pace of the development, we need to map things out again and again as we go. It is a new Age of Discovery indeed.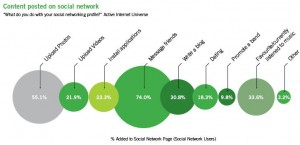 There are many more insights to be found in Universal McCann's global social media tracker, but I will close with one final observation. People are looking for places where they can unite all the things they are doing on the Internet and share it with their friends. For many users this place is currently their social network. However, social networks will only be able to keep this privileged position, if they become open enough for users to share whatever they created and whereever they created it. Otherwise people will find other places for their social ecosystem. Early adopters are already exploring social aggregators like FriendFeed that allow to present all their own and their friends' content in one view. More discoveries to be expected!
Georg Kolb