First off, a quick apology to my English readers. The first part of this post is in German. Please find an English summary below.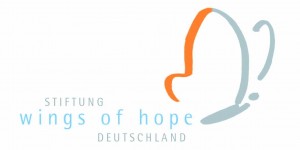 Die Stiftung wings of hope hilft traumatisierten Kriegskindern in Bosnien-Herzegowina, Irak und Palästina/Israel. Kinder sind die beste Quelle der Hoffnung auf notwendige Veränderungen, gerade dort, wo die Fronten am verhärtetsten sind. Genau an dieser Stelle setzt wings of hope an, aber deren großartige Arbeit muss bekannter werden.
Deshalb werde ich für jeden der ersten einhundert Tweets zu diesem Thema 5 Euro an wings of hope spenden.  Das kann ein einfacher Retweet meines Tweets sein oder eine eigene Nachricht. Im letzteren Fall dann bitte einfach das Hashtag #tweetsforhope in den Tweet einbauen, damit ich diese Tweets auch finden kann.
Wer nichts von Twitter weiß oder wissen will, kann natürlich auch einfach auf die Webseite von wings of hope gehen und am besten direkt spenden.
Vielen Dank im Voraus an alle, die mitmachen!
Update 17.12.: Bisher 30 tweets for hope mit insgesamt 21.093 Followern! Gut die Hälfte dieser Follower gehen auf die Konten von PR-Blogger Klaus Eck und Coach Roland Kopp-Wichmann. Dank an alle!
Update 18.12.: Nun schon 47 tweets for hope mit insgesamt  36.679 Followern! Die meisten Follower unter den Neuzugängen verdanken wir diesmal dem Innovator Monty Metzger und dem Karriere-Experten Jochen Mai (Karrierebibel). Aber der Dank geht natürlich wie immer an alle!
Update 20.12.: Jetzt 80 tweets for hope mit insgesamt 60.763 Followern! Dank an alle, besonders aber an den Sevenload-Gründer und Buchautor Ibrahim Evsan und den Blogger Robert Basic, auch wenn er gerade seinen Twitter-Account zum Verkauf angeboten hat (wie schon vor neun Monaten sein Blog).
Update 2 vom 20.12.: Das ging jetzt aber flott! 105 tweets for hope mit insgesamt 66.211 Followern! Dabei hat vor allem Gossip-Twitterer Michael Kneissler den Ausschlag gegeben. Danke! Ich habe auch gleich meine Spende für die ersten hundert Tweets überwiesen.  Gibt es vielleicht jemanden, der die nächsten 100 Tweets sponsern möchte?
English summary: wings of hope is a charitable foundation in Germany helping traumatized children of war in Bosnia-Herzegovina, Iraq and Palestine/Israel. Children are the best source of hope where change is desparately needed. That's where wings of hope put the focus of their great work, but they need to be better known. That's why I will donate 5 Euros for each of the first one hundred tweets on their work using the hashtag #tweetsforhope. Unfortunately, their web site is only in German, so there is no point in spreading this in English language. However, if you still want to be part of it and make a donation – e.g. for the English translation of their site 😉 – , let me know, and I will help you.