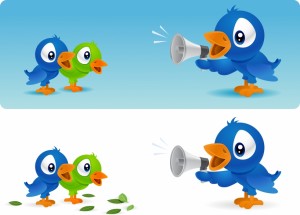 There has been much talk about what Twitter is, and many people also tried to define dos and don'ts for its use, be it for personal or business purposes.  I have certainly learned a lot from these efforts, in particular from those with good ideas such as Chris Brogan or those with a strong analytic sense such as Jeremiah Owyang.
It is symptomatic, though, that people talking about Twitter often have opposing views, the simple reason being that it is still emerging and can be many things to many people. So, I welcomed David Pogue's take (which was inspired by Twitter's co-founder Evan Williams) that Twitter is what you make it. David wrote his article from the perspective of an individual user, but I think his statement is also true for corporate applications. More about that in a minute.
What counts is that Twitter is growing fast. According to compete.com, it recently reached 14 m users in the US, that is up 76.8 % just within the last month! The Wall Street Journal stated that Twitter goes mainstream. This kind of message usually makes geeks hop off and watch out for the next train to be boarded. And, lo and behold, Steve Rubel just announced that Twitter is peaking. True or not, given that social media has become a global phenomenon, it is always prudent not to rely on the US only. In the German speaking part of the web for example, Twitter is far from going mainstream and far from peaking either. A recent estimate says that there are approx. 27,000 active users speaking German. While this might not be a big number, these people are still worth watching, because they are often highly opinionated and highly networked. Chances are that someone with hundreds of followers on Twitter also has hundreds of friends on other networks and syndicates her Twitter updates to them. Equally important, Twitter users are increasingly the first to break news. Even with "only" 27.000 active users, it's still pretty likely that some of them will be closer to the next newsworthy event than any journalist can be. Spectacular events such as the emergency landing on the Hudson illustrated that in an impressive way.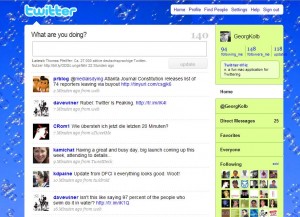 So, what does this mean to Corporate Communications? Let's start by quickly recalling what Twitter actaully does: it is a web site where you can publish short messages of up to 140 characters ("tweets"). Other users can subscribe to these messages and reply to them, publicly or in private. As a result, users are observing a stream of short news from the people they follow, either on their PC or on their mobile phone.
While this is a seemingly simple service, its use for corporate purposes is not that obvious. Here are a couple of observations on what it can be or has been for others, but ultimately it will depend on you what you make it and how it adds value to your business. As far as I can see, three areas of applications have emerged:
1. Radar: What is true for all social media is in particular true for Twitter: you should watch, if and how people are talking about you, simply because it can have an impact on the reputation of your brand. Whenever there is something happening with your business, be it good or bad, Twitter might be the first source where it's echoed, because it works so easy and fast. It is like  a newsticker sourced by the crowd. For example, when pain killer brand Motrin came out with a controversial ad targeted at moms, outraged mothers instantly vented their disapproval on Twitter. If there isn't any mention of your brand just yet, that might change quickly, so I would recommend to make sure that it is covered by your regular social media monitoring. However, it is a different question, if and how you might want to engage with Twitter users. That depends on the results of your monitoring, but also on the profile of Twitter users relevant to your business. If you do decide to engage with them, you might want to consider the following options – or find a new way.
2. Monologue: One of the early myths of the social media community was that it is always about dialogue and conversation. Interestingly, some of the more successful business applications of Twitter work as a monologue. In fact, much of what's happening on Twitter works as a syndicated stream of monologues. It sometimes can even be disturbing when two people start a conversation that is only relevant to them, but syndicated to all their followers. Anyway, some businesses use Twitter as a newsticker for their stakeholders. It doesn't come as a surprise that this approach is especially relevant to news businesses such as CNN. But this also works for any business that has news to share which fit this particular format. E.g. Dell has found that for them Twitter works pretty well with sale alerts. In December last year, InternetNews reported that over a period of 18 months the computer company had made $ 1 m in revenue using Twitter to announce their special deals. The social piece in this kind of application is that Twitter users forward ("retweet") the news to their followers. Twitter is not only about monologues, though.
3. Dialogue: Some companies have found that Twitter can work for customer service. Cable company Comcast is one example, the airline JetBlue another. For them Twitter is a source to identify complaints or questions that might cause damage to their brand, but also the platform to address them. When they respond to an issue all other customers already following them on Twitter will see the response and benefit from it or add another request. The result is a lively connection to customers that didn't exist before. The same channel can also be used to ask customers what they think of specific offers or ideas. This kind of live search is certainly one of the most fascinating aspects of Twitter. If the inquirer has a large enough following,  the users usually respond to requests like this with incredible speed and creativity. It's like an instant poll with real-time responses. I would have to agree with Michael Arrington that Twitter's ability to help brands finding customer opinions and to help customers finding news on brands in real-time are enough reason for Google's rumored interest in an acquisition.
With all that, is Twitter here to stay? I don't know about the company, since they are still working out their business model and negotiating deals with Google or others. It currently is also magnified by a remarkable media hype that will eventually come to an end. But I do believe that social networks based on short messages do have a future: for the benefits I have outlined above and for those that are to be discovered yet, but also for the short message culture we already established across the globe. Igor Schwarzmann pointed me to this striking fact: in June 2008, there were 2.7 bn mobile phone users worldwide, 1.8 bn of them actively using SMS which means that globally there are twice as many active SMS users as there are active users of e-mail. Give them access to the Internet and they are ready for Twitter! Another way it could go is that important social networks such as Facebook or LinkedIn build on the twitterlike "status updates" they already have by adding features for mobile use.  There are already some users "cheating on Twitter with Facebook" for the more integrated experience full-fledged social networks can provide.
Georg Kolb