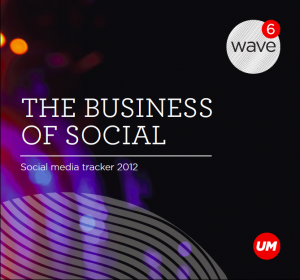 Since 2006, media agency Universal McCann (UM) has annually surveyed active internet users across the globe on their use of social media. They define active internet users as people aged 16-54 who use the internet at least 3-4 days a week. They chose this group, because it is driving the adoption of social media platforms. While UM's methodology has always stayed the same, they steadily increased the number of people surveyed. For their latest report, Wave 6, they got responses from 41,738 users in 62 countries, including 1,043 in Germany. A 74-page summary is downloadable for free. There is also a German version available.
I have written about UM's earlier findings, in particular with a view on Germany,  and it's interesting to see how the global use of social media has evolved since then. Over the last couple of years, we have observed the impressive growth of social media across the globe, with some significant differences between countries depending on their socio-economic environment. At first, the growth was triggered by an increasing number of specific activities such as blogging or video sharing with each activity having its own purpose for users. Over time, social networks in general and Facebook in particular emerged as the platforms where most users aggregated the different things they were doing on the internet. This trend continued in Wave 6, but as the social media universe matures and new devices for access emerge, we can see more differentiation in the way social media are being used. Here is what I took away from Universal McCann's latest report.
Less profiles, more contacts
Since 2010, the number of social network profiles being created by active internet users has slowed down. Only countries such as Germany which are lagging behind the more mature social media markets are still seeing significant growth on social networks (see exhibit 1) and other social platforms.
However, while the number of profiles doesn't grow as fast as it used to, the time spent on managing those profiles is still on the rise, as the number of social contacts managed continues to grow (see exhibit 2).
As a result, users are spending more time socializing online than ever before (see exhibit 3).
Social networking means different things to different countries
While social networking is always about sharing an interest with others, it is to some degree dependent on the cultural context what that actually means: e.g., the Chinese look for education and self-improvement, whereas the Germans look for a sense of belonging (see exhibit 4).
Privacy concerns in balance with readiness to share
With users exposing more of their personal data on social networks, it doesn't come as a surprise that there is also more concern with regards to data privacy. At the same time, users have become so attached to the habit of social networking that they are prepared to accept a certain level of risk (see exhibit 5).
Brand websites losing importance
With social media activities consuming most of the time users spend on the web, brand websites are losing importance across all age groups, but particularly with young users (see exhibit 6). Interestingly, this decline of brand websites is not as distinct in Germany as it is elsewhere.
With their offering mostly limited to information and commerce, brand websites don't present many opportunities for engagement with users, at least when compared to social media platforms (see exhibit 7).
Brand interactions mean different things to different industries
Interestingly, when asked what kind of interaction users would appreciate when communicating with brands, they respond differently from industry to industry depending on the targeted outcome (see exhibit 8).
PC, laptop and mobile phones still the main devices to access the web
PC, laptop, smartphone, tablet, mobile phone, e-book reader, internet connected TV, games console, portable MP3/video player, portable games console, the number of devices allowing for access to the internet is growing. However,PC, laptop and mobile phones are still the main ways to access the internet (see exhibit 9). Of course, this is expected to change as the smartphone penetration is growing rapidly with tablets also catching up.
When comparing how the devices are being used, it already begins to show how smartphones are strong when it comes to searching, browsing, locating or reading news online (see exhibit 10).
Georg Kolb