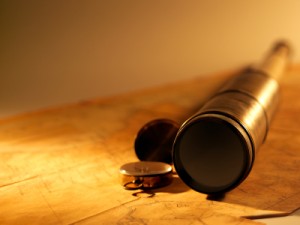 Social Web World in Germany did a series of interviews on the future of PR. Here is an English summary of my bit:
What is the main task of PR chiefs today? What will it be in five years?
Let me just make a preliminary note on questions regarding the future of communications. Back in 2004, "blog" was the term most searched on the US online dictionary Merriam Webster. Five years later, 15.8 % of Fortune 500 enterprises had a corporate blog. In 2004, at the peak of the blog hype in the US, many would have expected a higher rate than this, but from a long term perspective it can still be seen as a remarkably fast adoption. In other words, at the peak of a hype – as currently is the case with social media in Germany – it's easy to fall into one of two traps: you either underestimate the change ("it's all hype, nothing will change") or you overestimate it ("everything will change"). The truth is generally somewhere in between, and that's where my attempts to touch on the future will go, more like a compass than exact directions.
Today, the main task of PR chiefs is to build and protect the reputation of their companies or organisations, with the perception by traditional media being the major focus, considering the company as a whole, its products, its economic situation and – not the least – its leadership. A significant part of the attention is also dedicated to planning, resource management and leading the own team or external service providers PR chiefs are working with. I do believe that all this won't change over the next five years, but I also do expect an extension of duties and considerable shifts in focus:
More direct communication: With the advent of social media, everyone with internet access potentially has a public voice. As a result, the one public determined by traditional media is complemented by many new publics influencing the perception of companies. These new publics expect to be addressed directly. As a result, PR as a whole is getting more interactive and more holistic. It again has to deal with all publics, not just the media. And in addition to the publics of the old school of PR, new, virtual publics are emerging that didn't exist before. This results into two important questions for the PR organisation: 1) Which online voices are at all relevant for the company? 2) How is efficient communication in this environment of potentially thousands of voices possible with limited ressources?
More technology: In the future, PR chiefs don't have to be nerds or software developers, but they need to know on which platforms new publics emerge, which of those are relevant to the organisation,  and how they can be used for efficient communication. Being familiar with communication technologies will be of growing importance for PR chiefs both for daily work and for education. This development is fostered by communication technology more and more becoming a life style, not only for the young.
More integration: More direct communication also entails more integraton. If companies increasingly communicate with all publics directly and interactively, there is more coordination needed between the departments involved, in particular between PR, marketing, and customer relations. This will also change the organisational line-up. Large enterprises such as IBM and Bosch have already integrated PR and marketing, with former PR chiefs being in the lead. I expect this to see more often.
More governance: More direct communication – this has been pointed out time and again – results in loss of control. I'd like to distinguish that a bit. If corporate communication is not just a one-way street of press releases, advertisements and brochures, you will certainly lose a part of the control over the content, because suddenly many can chime in, be it employees, customers, partner or other stakeholders. However, such a democratisation of communication doesn't necessarily lead to anarchy. We will need a communicative constitution allowing for civilised interaction with relevant results for all, a communications governance all employees have to adhere to.  It will probably be coordinated by communications chiefs working with HR, Legal, and IT. With the number of participants communicating demand for communication trainings will increase, too, not only for spokespersons, but for all employees. So the loss of control over content will be counterbalanced by increased control over the framework of communication. We can observe first signs of this development in "social media policies".
More internal communication: Employees have always had an impact on the reputation of a company, but with the advent of social media their influence has grown massively. They are becoming brand ambassadors, good or bad. In addition, companies are under increasing pressure to change as fast as their markets. Employees have to support these transformations, if their company is to stay successful. That's only possible, if the demand for communication generated by transformations is addressed in an interactive way, otherwise employees will only be affected by the change rather than actively engaged in its success.
More internationality: The globalisation of the economy results in a globalisation of communication. Even small companies are joining internationalisation earlier and earlier. However, the different publics you have to deal with are rather getting smaller than larger, since it's easier to reflect and organise special interests online. With the expansion of total reach comes a fragmentation of the parts. The PR organisation and its chief will face demands that won't be met with previous habits. Without going into details, I would argue that tomorrow's communication department needs to be ready for decentralisation, virtualisation and cultural adaptability.
More value: I expect requirements for evaluation and controlling of communication to increase even more. That will be good for our discipline, because its value beyond media reach will become visible. Increased cost pressure concurs with some of the other change factors mentioned above. E.g. the impact of communication can be better derived from direct communication than from indirect communication via traditional media. At the same time, everything happening online can be better documented. And the integration of PR, marketing, and customer relations will allow for significant synergy effects.
Is the press release dead? What will be the tools of the future?
No, the press release isn't dead. To some degree we are even seeing a renaissance of the press release. It's easier to distribute than ever before, both online and offline. Offline, editorial offices are being more and more centralised, so that local media can't produce much content anymore. Online, there are more spaces for press releases than ever before, and despite an early social media myth many blogs are happy to accept them. In terms of its format, the press release as we know it, will stay mostly the same in regulated environments such as financial communications. In less regulated environments the press release will get shorter, multimedia-based, and modular, as we can already see with today's social media releases.
We will also see new communication platforms. I can't foresee which ones will have survived in five years from now. Let's just consider: Facebook is around since 2004, YouTube since 2005, Twitter since 2006. I believe we will see new players we don't know yet, in particular in the mobile space. Real-time communication will certainly play an important role for news creation. But there will also be continued demand for reflexive communication providing backgrounds and context, I actually believe this demand will increase, so as to offer orientation in an ever growing information glut. Regarding particular tools, I expect the use of images and moving images to go up dramatically, since their cost of production and publishing has gone down dramatically.
Traditional PR is built on a story. Will that still be the case in the future?
Yes, the story will always be the driver of organisational communication. I expect, though, that stories will have to be less narcissistic and more audience focused, because the audience doesn't have to suffer in silence anymore what's been thrown at it. The recipients are able to express their opinion and they do it. The story development will have to revolve around connecting company stories to topics audiences care about. Theoretically this has always been the case, but the practical necessity to make it happen has increased significantly. In particular in product communications I expect less feature talk and more meaning to users' life.
PS: If someone needs a good read on the future of PR, I do still recommend the "Authentic Enterprise" report of  the Arthur W. Page Society. It's three years old, but still worth reading.
Georg Kolb